Case Study: Sue Devitt Beauty
It's clear that Dan and his team appreciate our business. From a customer service perspective, they are incredibly accommodating. Their speed of delivery is just excellent. I've already experienced the other end of the spectrum – that's what makes Beyer Graphics so valuable to me."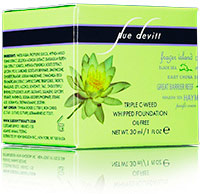 Sue Devitt Beauty products are sold at the lead counters of high-end department stores worldwide. Beyer Graphics ensures the packages get there on time – and look great all the time.
Challenge
Faced with inconsistent quality and delivery delays, this high-end cosmetics manufacturer was looking for a more efficient, cost-effective packaging solution to their existing large, multiplant vendor.
Solutions
Folding carton manufacturing, printing on uncoated sheet with eight-color front, spot UV gloss.
Results
With Beyer Graphics as their single-source packaging solution, 48 Sue Devitt Beauty products – from lipsticks to skincare treatments – are now packaged in high-quality folding cartons with consistent color values and delivered to their six manufacturers nationwide faster and more cost effectively than ever before.